Office Bearers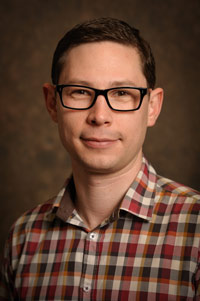 President - A/Prof Dominic Thewlis
A/Prof Dominic Thewlis, School of Medicine, Faculty of Health & Medical Sciences, The University of Adelaide.
Tel: +61 (08) 8313 7096
Email: dominic.thewlis@adelaide.edu.au
Web: http://researchers.adelaide.edu.au/profile/dominic.thewlis

A/Prof Thewlis is a NHMRC R.D. Wright Fellow at the Centre for Orthopaedic & Trauma Research, The University of Adelaide. His research broadly investigates the biomechanics of the lower limbs in degenerative joint disease and fracture. He uses a combination of experimental and computational methods to estimate tissue loading in these conditions in order to better understand the basic pathophysiology and with the eventual goal of improving patient outcomes.
---
Secretary - Dr Egon Perilli
Senior Lecturer in Bioengineering, The Medical Device Research Institute, School of Computer Science Engineering and Mathematics, Flinders University, Adelaide
Tel: +61 (08) 8201 3586
Email: egon.perilli@flinders.edu.au
Web: www.flinders.edu.au/people/egon.perilli
Dr Perilli's research is in 2D and 3D quantitative imaging and characterisation of bone, joints and biomaterials, combining micro-structural and material properties with those obtained from biomechanical tests and histology. The main field of research is in osteoporosis, osteoarthritis, as well as inflammatory arthritis and particle-induced osteolysis in cross-collaboration with other groups. His research involves a number of biomedical imaging techniques, in particular state of the art micro-CT, both in vitro and in vivo, of bone samples and entire bone segments such as vertebra, tibia, femur, radius, on human tissue and animal models. These techniques are used for quantitatively determining bone macro and micro-structure, density and morphometry. The mechanical strength of the bone is determined via experimental testing, for investigating the relationships between bone structural and mechanical properties.
---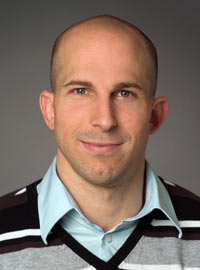 Treasurer - Assoc/Prof Nathan Pavlos
Head of the Cellular Orthopaedics Laboratory at the Centre for Orthopaedic Research, School of Surgery at the University of Western Australia.
Tel: +61 (08) 9346 2083
Email: nathan.pavlos@uwa.edu.au
Web: www.uwa.edu.au/people/nathan.pavlos
Dr Pavlos's current research interest focuses on deciphering core molecular machinery of bone-resorbing osteoclasts, the major cellular protagonists underlying a number of highly debilitating orthopaedic-related diseases including osteoporosis, Paget's disease and tumour-mediated bone loss. To achieve this, he employs several high-through-put screens for candidate components of the osteoclastic resorptive machinery including integrative genomic, quantitative proteomic and phenomic screens. Along with his focus on osteoclasts and bone biology, he also has a long-standing interest into the molecular mechanisms regulating intracellular membrane trafficking.
---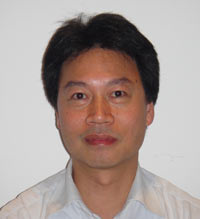 Immediate Past-President - Winthrop Professor Jiake Xu (2012-2015)
Winthrop Professor/Head of Molecular Laboratory, School of Pathology and Laboratory Medicine, The University of Western Australia
Tel: +61 (08) 9346 2739
Email: jiake.xu@uwa.edu.au
Web: www.uwa.edu.au/people/jiake.xu
Prof Xu's research interests are in gene discovery and molecular mechanisms of osteoclast functions and their intercellular communication with osteoblasts, which have significant implication in osteoporosis, Paget's disease and malignancy-related osteolysis.
Committee Members
Prof Hala Zreiqat
National Health and Medical Research Senior Research Fellow,
Head Tissue Engineering and Biomaterials Research Unit, Faculty of Engineering,
University of Sydney

Professor Bogdan Solomon
Discipline of Orthopaedics and Trauma
The University of Adelaide

Dr John Costi
Medical Device Research Institute
School of Computer Science Engineering and Mathematics
Flinders University

Dr Justin Fernandez
Senior Research Fellow
Auckland Bioengineering Institute
The University of Auckland

Dr Zufu Lu
NHMRC Early Career Fellow
School of Aerospace, Mechanical and Mechatronic Engineering
The University of Sydney

Dr Melissa Ryan
Research Associate
School of Computer Science Engineering and Mathematics
Flinders University

Dr Saulo Martelli
ARC DECRA Fellow
Medical Device Research Institute
School of Computer Science
Engineering and Mathematics
Flinders University


Professor Gerald Atkins
Scientific Co-Director, Head Bone Cell Biology
The University of Adelaide
I-CORS representative

Dr Tania Crotti
School of Medical Sciences
The University of Adelaide

Dr Pazit Levinger
Senior Lecturer
Victoria University

A/Prof Peter Pivonka
Australian Institute of Musculoskeletal Science, NorthWest Academic Centre,
Department of Medicine
University of Melbourne

Dr Hossein Mokhtarzadeh
Postdoctoral Research Fellow
Australian Institute for Musculoskeletal Science
NorthWest Academic Centre
The University of Melbourne

A/Prof Thor Besier
Auckland Bioengineering Institute
The University of Auckland

Prof Cory Xian
School of Pharmacy and Medical Sciences
University of South Australia

Ramin Rohanizadeh
Senior Lecturer, Pharmaceutics
The University of Sydney




Home Page About ANZORS Events Links Contact Us


© ANZORS
(Australian & New Zealand Orthopaedic Research Society)
Web Design Perth