2017 Annual Conference
Register today! Early bird deadline 01 September 2017!
The 23rd annual ANZORS (Australian New Zealand Orthopaedic Society) Conference will be held in conjunction with the 5th biennial International Clinical RSA (Roentgen Stereophotogrammetric Analysis) Research Network Conference, for what will be the 2017 ANZORS-RSA Joint Conference, in Adelaide, SA, Australia, from 06 to 08 October 2017. The conference will be held directly before the annual AOA (Australian Orthopaedic Association) scientific meeting (Adelaide, 8-12 October 2017), providing a great opportunity for those who wish to attend both conferences back-to back.  
Conference dates Preliminary Program
2017 ANZORS-RSA Joint Conference:
Friday 06 – Sunday 08 October 2017.
Venue: New Royal Adelaide Hospital, corner North Terrace/Port Road, Adelaide, SA 5000, Australia.
Confirmed International Keynote Speakers:
Prof Stuart Goodman MD PhD, Professor in Surgery and Professor in Bioengineering. Stanford University, CA, USA.
A/Prof Maiken Stilling, MD PhD, Orthopaedic Research Unit, Aarhus University Hospital, Denmark.
Prof Rob GHH Nelissen, MD PhD, Chair and Professor in Orthopaedics, Leiden University Medical Centre; Professor at TU Delft, Netherlands. President Netherlands Orthopaedic Association.
Bernd Grimm, PhD, MEng, Zuyderland Medical Center, Heerlen, The Netherlands. Research director & coordinator. Immediate past president of EORS.
Confirmed National Keynote Speaker:
Prof Peter Choong MD, Head of Department of Surgery University of Melbourne at St. Vincent's Hospital Melbourne, VIC, Australia.
Social Program includes:
Students social event (Masters/PhD candidates) in the evening of Friday 06 October 2017
Exciting ANZORS-RSA Networking Afternoon in a winery for all registered delegates, with following Conference Dinner in the city, with announcement of ECR and PhD award winners, on Saturday 07 October 2017.
Register today! Early bird deadline 01 September 2017!
Congratulations again to last year's awards winners, the 2016 David Findlay ECR Award winner Rami Al-Dirini from Adelaide and the 2016 PhD award winner Vonne M van Heeswijk from Auckland, NZ. See the winner photos and the networking afternoon photo (click on photo to enlarge!).
Visas, Travel and Accommodation:
For any query regarding visas, travel to or accommodation in Adelaide, please contact our professional meeting organiser Lara Malcolm lara@themeetingpeople.com.au
Conference Sponsors: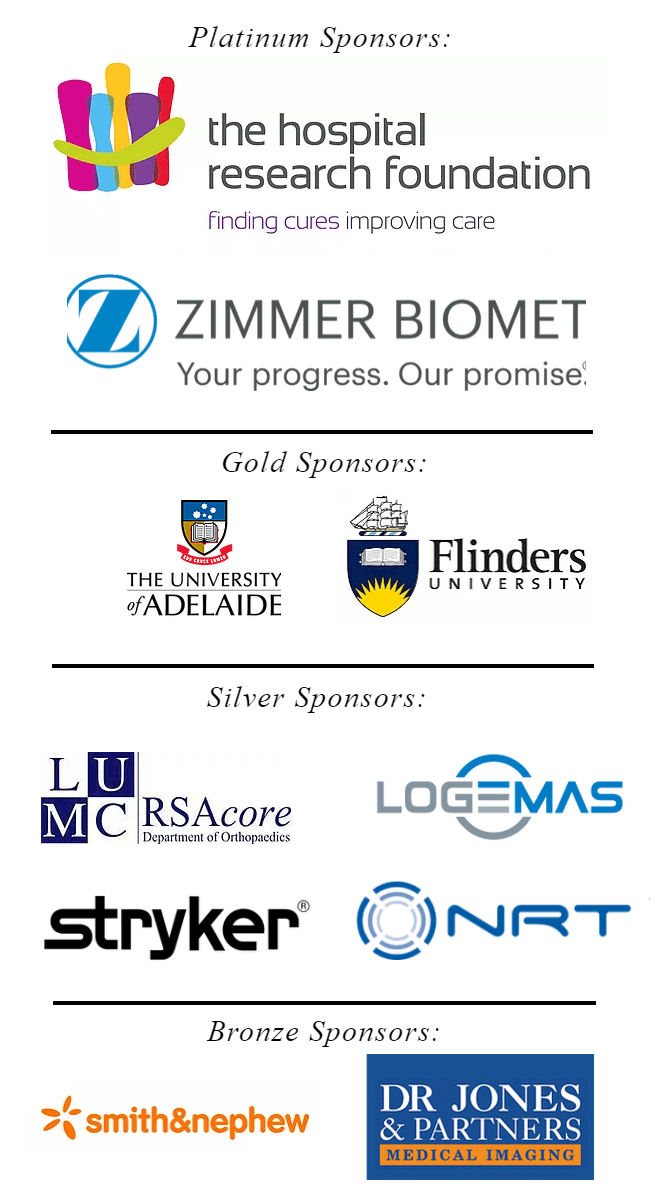 See you in Adelaide!



Home Page About ANZORS Events Links Contact Us


© ANZORS
(Australian & New Zealand Orthopaedic Research Society)
Web Design Perth